Is there an answer for Americans living in a world of nutritional pollution?
Millions are trapped in an obesigenic world that robs them of health, vitality and self-worth.
Statistics reveal that two thirds of Americans are overweight or obese. It has become an epidemic in America. With fast food restaurants on virtually every street corner and the lines stretching into the streets while people wait to place their orders at the drive-up window, how do we convey that it IS possible to reclaim health and pursue optimal health in spite of our hectic lifestyles?
The purpose of our MakeMeThinner.com blog is to introduce you to the Healthy Habits that will assist you in attaining a healthy weight and beyond. This implies we must take personal responsibility in following the strategies that lead to life-long health. Nancy and I have also discovered that in using the Medifast products in our weight loss journey we were involved in more than a diet. In July, 2002, we began our weight loss journey. Our experience in our own personal health revolution was further enhanced by our discovery of the Trilogy of Health as we became Health Coaches taking health to America. The Trilogy involves…
Healthy Body
Healthy Mind
Healthy Finances
MakeMeThinner.Com is a home-based business that reaches into every state in our country as well as areas outside the USA. It was birthed on July 15, 2002 when my wife Nancy and I began our weight loss journey to renew our health by incorporating proven strategies and tools (unbeknownst to us, and most overweight Americans, prior to July 15th, 2002) that form the foundation for permanent weight control.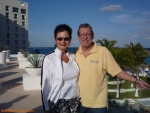 MakeMeThinner is as Independent Health Coaching Business organization partnered with Take Shape For Life, the coaching arm of Medifast, Inc. These nutritionally-balanced meal replacement products are an effective vehicle for confronting the challenges of the high calorie, high glycemic meals we find so readily available in America today.
Our mission is to lead the wellness revolution in helping Americans "reclaim" their health, to live well and to live well longer. We are a growing segment of a bio-network of Health Coaches and Health Professionals promoting weight loss and Optimal Health and wellness using safe, effective, non-intrusive, nutritional intervention. When treated with appropriate nutrition, our bodies have an innate ability to begin the road to restoration. Ours is a non-drug and non-surgery approach – imagine! Wellness occurring without surgical and/or drug intervention! This is contrary to what we often find in the current medical delivery system – which may be more appropriately labeled 'sick-care', not health care.
Are you up to the challenge of reclaiming your health?
Are you prepared to Take Shape For Life?